The Most Popular Granite Countertop Colors
We love granite for its stunning appearance and naturally occurring variations that make each slab a unique piece of art. Granite is easy to clean and requires little maintenance, making it a popular choice among homeowners. Plus, the durability of natural stone is perfect for kitchen countertops, backsplashes, bar tops, wall caps, and more.
Natural Stone Kitchen Countertop Colors
With so many options to choose from, we know selecting the perfect granite countertop for your kitchen can feel a bit overwhelming, To make your selection process easier, we've gathered a collection of the most popular granite colors homeowners are installing in their kitchens for you to explore. It's a great place to start your search!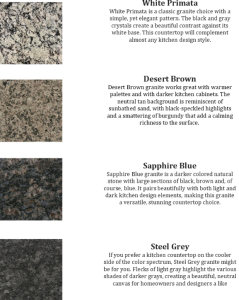 NDA Kitchens
192 Smithtown Blvd.
Nesconset, NY 11767
T: 631-360-8949