How to Create a Spa Retreat in Your Bathroom
Do you dream of creating a master bathroom with all the amenities of your favorite spa? You might need a little inspiration to bring your vision to life. In addition to using the colors and materials that suit your tastes, consider including these high-end features in your bathroom remodel to transform it into a spa-like retreat.
Heated Tile Floors
Radiant heating is a method of warming your home via infrared radiation. It's the effect you feel when you place your hand near a hot stovetop burner. When your bathroom floor is fitted with radiant heating under the tiles, you'll never experience cold toes stepping out of the bath ever again.
It's possible to install radiant heating throughout your entire home, but the bathroom is the most desirable location to create warmth underfoot. Add this feature during your bathroom renovation to make it feel like a spa.
Freestanding Tub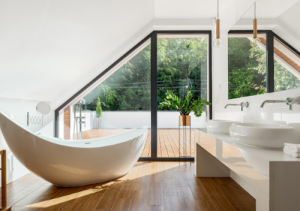 Frameless glass shower enclosures are far classier than vinyl shower/tub combos, so you may be looking to make an upgrade. But what if you also enjoy the occasional long soak after a hard day's work?
If you have the square footage, a freestanding tub makes for a wonderful addition to your remodeled bathroom. The distinctive style of a freestanding tub definitely turns heads when friends and family members walk into your bathroom. It's also the perfect opportunity to install a Jacuzzi with relaxing jets. Nothing says "spa" like a gentle massage from your jetted freestanding tub!
Natural & Artificial Lighting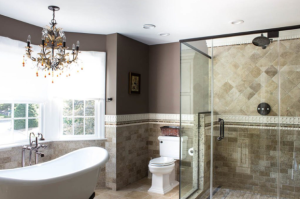 If your bathroom is located on an exterior wall, seriously consider putting in a window or two. Bathrooms on the upper floor of your home can also have skylights. Allowing natural light to flood your bathroom is incredibly therapeutic. Remember, you can always install frosted glass or window coverings, or you can position the window high on the wall if privacy is a concern.
Of course, you also need artificial lighting in your bathroom. Why stick with traditional options when you can upgrade to candelabra wall sconces and a stunning chandelier? You'll enjoy the spa treatment every day with these types of lavish fixtures.
Rainfall Showerhead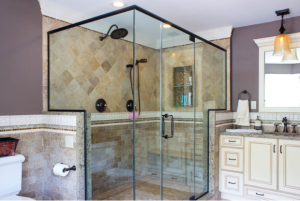 A luxurious rainfall showerhead is a must for creating a spa-like retreat. This fixture gently showers you with a wide stream of water coming from directly overhead. If you share your master bathroom with a partner, you may be pining for a more spacious shower. Dual rainfall showerheads might be the perfect solution.
We emphasize aesthetics and function in everything we do, so before starting any renovation we will work with you to determine the optimum use of space, lighting, fixtures, and materials. The best part is that the design will be custom-made just for you. Check out our bathroom remodeling page for more ideas!
NDA Kitchens
192 Smithtown Blvd.
Nesconset, NY 11767
T: 631-360-8949